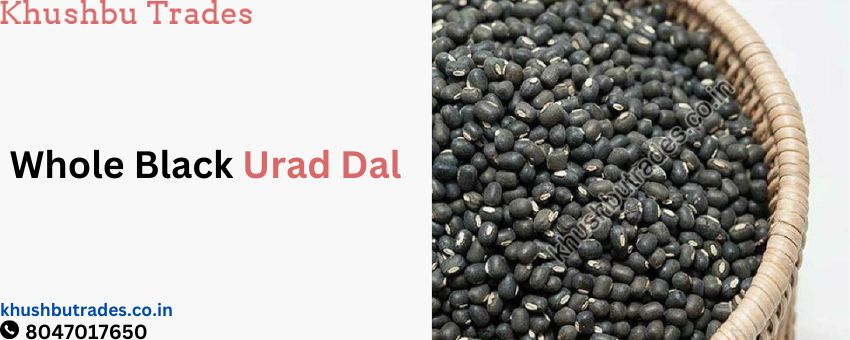 Black gram or whole black urad dal is the most popular legume used in many South Asian cuisines. India is the leading producer of whole black urad dal and the whole black urad dal suppliers in India play a crucial role in supplying this legume to every part of the world.
Black urad dal is used in making stews, soups, curries, and many fermented foods. The most common dish prepared with whole black urad dal is "Maa Ki Dal". Whole black urad dal is widely consumed in India as it is said to promote digestive health, liver health, heart health, and bone health. This legume is loaded with essential nutrients, including protein, vitamins, minerals, antioxidants, and dietary fiber that are highly beneficial to our body in various ways. To know the potential health benefits of whole black urad dal, read the following points mentioned below:-
1.
Helps Improve Digestion
:
Whole black urad dal is an excellent source of fiber which can help improve digestion. The fiber content in black urad dal helps increase the volume of fecal matter in the digestive tract and supports the contraction and relaxation of stomach muscles to remove waste from the body. Thus, whole black urad dal can be an excellent addition to your diet if you are experiencing constipation, bloating, diarrhea, stomach cramps, or any other gastrointestinal problems. This dal is also beneficial in treating piles and colic disorders.
2.
Keeps Heart Healthy:
Whole black urad dal can keep your heart healthy as it contains some important minerals such as potassium and magnesium. The relaxing effects of potassium on the blood vessel walls help reduce blood pressure. The magnesium content in urad dal helps increase blood flow which transports oxygen to cells in the body. Consuming urad dal regularly can also keep cholesterol in check. All these factors contribute to keeping the cardiovascular system healthy.
3.
Excellent Food Choice For Pregnant Women:
The high iron content in whole black urad dal is good for pregnant ladies. Iron stimulates the production of RBC which is responsible for transporting oxygen to all body parts. Women in their pregnancy period should consume whole black urad dal regularly to overcome the lack of iron.
4.
Keeps Bone Healthy:
The whole black urad dal is rich in calcium, magnesium, phosphorus, and iron. All these minerals are essential to keep our bones healthy. As we grow older, our bones become weak naturally and there is the risk of fractures and bone diseases like osteoporosis. So, to keep our bones healthy, we must include whole black urad dal in our daily diet.
5.
Helps Boost Energy:
Whole black urad dal helps boost energy levels in the body as it contains a high amount of iron. It supports the body to produce more RBC and supply of oxygen in sufficient qualities, at the correct rates. This helps you feel more energetic. Weakness can be avoided by consuming iron-rich foods like whole black urad dal daily.
Some of the other health benefits of whole black urad dal are- it helps keep skin & hair healthy, controls diabetes, reduces oxidative stress, prevents kidney stones, etc. Including black urad dal in your daily diet is extremely important for maintaining good health. When available in the unadulterated, pure form containing all its essential nutrients, whole black urad dal significantly benefits your daily food. You should always choose a famous whole black urad dal supplier exporter to get unadulterated, high-quality whole black urad dal.