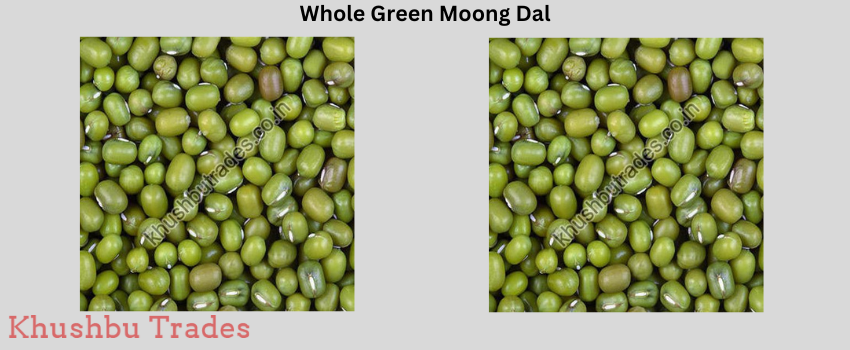 A member of the legume family, whole green moong dal are little green beans. Since ancient times, people have grown them. They were formerly only found in India. But they later made their way to China and several Southeast Asian countries.
Fresh, sprouted, or dried versions of these beans, which have a mildly sweet flavour, are all available for purchase. The majority of whole green moong dal suppliers sell them.


Mung beans are widely used in stir-fries, salads, and soups because of their exceptional versatility. They contain a lot of nutrients and are thought to treat a variety of illnesses.


A few health advantages of whole green moong dal are listed below :


Rich in Protein
One of the best sources of protein found in plants are these beans. The essential amino acids phenylalanine, leucine, isoleucine, valine, lysine are abundant in them.
Your body can not manufacture some amino acids, known as essential amino acids. It is crucial to be aware that sprouting modifies the nutritional makeup of mung beans as they are also consumed sprouted. Compared to unshrouded beans, sprouted beans provide more free amino acids, more antioxidants, and fewer calories.


Increased Antioxidant Levels May Lower the Risk of Chronic Disease
Several beneficial antioxidants, such as phenolic acids, flavonoids, caffey acid, cinnamon acid, and others are present in mung beans. The potentially hazardous chemicals called free radicals are neutralised by antioxidants.
Free radicals have the potential to cause damage to cellular structures when they are present in large quantities. A number of disorders, including cancer, heart disease, and chronic inflammation are associated with this damage.



Vitamin E and Isovitexin Antioxidants May Prevent Heat Stroke
Mung bean soup is a popular summertime food in many Asian nations. That's because mung beans are said to contain anti-inflammatory characteristics.
They help to aid in preventing heat stroke, high body temperatures, thirst, and more.
Staying hydrated is a crucial component in avoiding heat stroke. Several experts doubt if mung bean soup is any better than drinking water. The anti-oxidants vitamin and isovitexin are also found in mung beans.


Lowering the Risk of Heart Disease
Your risk of heart disease may increase if you have high cholesterol, particularly "bad" LDL cholesterol. It is interesting to note that study suggests mung beans may have abilities to reduce LDL cholesterol.
Mung bean antioxidants, for instance, have been demonstrated in animal experiments. It is to lower blood LDL cholesterol and shield the LDL particles from interaction with unstable free radicals. Levels A review of 26 studies also showed that consuming one daily serving of legumes significantly reduced blood LDL cholesterol levels.


Conclusion
Fibre, Magnesium, and Potassium-Rich Foods may lower blood pressure. American adults are thought to have excessive blood pressure in 1 out of 3 cases. Heart disease, the biggest cause of mortality in the world, is made more likely by high blood pressure.
It Is a major health issue. It is possible that whole green moong dal can reduce blood pressure. Potassium, magnesium, and fibre are all present in good amounts in them. Each of these nutrients is associated with a noticeably lower incidence of hypertension, according to studies.